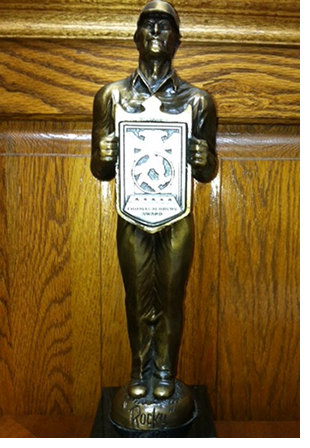 On March 17, 2007, Burkes Mechanical, Inc. received the first ever Thomas M. Drury Award. The award is named after Mr. Thomas M. Drury who is President and Chief Operating Officer of Bloomsdale Excavating. In 2006, Drury's company was the first to ever form an Independent Contractor Partnership with the Mine Safety and Health Administration (MSHA). The award is given to contractors who "proactively work to achieve excellence in Miners' Safety and Health".

The award was presented in Fort Worth, Texas by the South Central District of MSHA at their 25th Annual Joint Mine Safety & Health Conference. MSHA has been giving safety awards to various mines for years. This year, MSHA District Director Edward Lopez was seeking to recognize the "employees and employers who are committed to performing quality, safe work at our nation's mines".

In January 2007, Burkes Mechanical performed a job for Cemex in Odessa, Texas. This job consisted of dismantling the roof and top floor of a 6-story concrete building that weighed approximately 375 tons. In addition, Burkes installed a replacement steel structure in one piece. The roof had deteriorated and become a safety concern. After reviewing Burkes' plan and actions, Court van Sickler of Cemex stated that Burkes was "doing it the safest way possible". Mr. Sickler spoke with Mr. Lopez about Burkes' performance on the project and Mr. Lopez recommended that he nominate Burkes for the award.
After the nomination, Burkes became 1 of 6 finalists selected according to guidelines established by IMCSA (Independent Mining Contractors Safety Association). The final criterion for selection was the company's safety record over the last several years. Mike Bircheat, Burkes' Safety Director, stated that "while we were nominated for the award for one particular project, the final decision was based on the record of our company throughout all our mining sites. This award is an example of what we can accomplish as a team one safe decision at a time." Chip Burkes, President of Burkes Mechanical, commented "I would like to thank all of the men whose safety first attitude and conscientious work ethic made this project a success. They laid the groundwork, which brought this warranted recognition to the efforts that all of our employees display in working safely each day. I am most proud of the selection criteria that were used to determine the overall winner of the award. Our safety record shows that our employees have taken ownership in the safety program and training that our Safety Director, Mike Bircheat, has instituted. We will continue to train our men to work safely and to recognize hazards in the changing work environment. Our goal is zero accidents on all of our projects".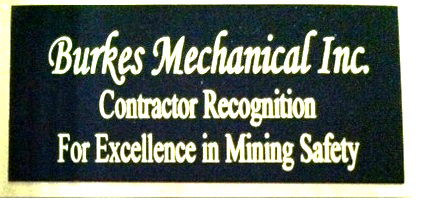 Employees taking part in this project were: Robin Bradfield, Shawn Bradfield, Robbie Bullard, Billy Chavers, Larry Ennis, Andy Flint, Stan Green, Jacob Grimes, Keith Haskew, Dwayne Hatcher, Hawood Hicks, Casey Hubbard, Justin Irwin, Charlie Jay Sr., Kevin Jenkins, Barry Johnson, PJ Jones, Chase Knight, Jacob Knight, Mark Lane, Don Lester Jr., David Mascarella II, Ron Morgan, Bill Paulk Jr., Travis Powell, Dustin Rice, Rex Sheffield, Chad Wideman, Travis Wilkinson, and George Witherspoon.

Burkes Mechanical, Inc. is a construction and maintenance contractor based in Brent, Alabama and is licensed in multiple states to perform structural, piping, millwright, concrete, and heavy lifting projects.